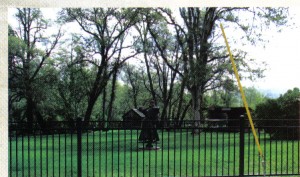 Formerly known as the Lake Creek Community Hall, this building, located across from the Lake Creek Store, is owned by the Society on land leased from B-K Cascade Ranch Inc.
The building was deteriorating from the weather and lack of use, but it has now been remodeled to include space for Lake Creek Historical Society offices and historical exhibits.  The building also provides residents a place for a variety of activities.  The building and park is rented for weddings, family events and company picnics.
The Society has display cases with on going exhibits and swing boards of family pictures of homesteaders of the area, as well as pictures of schools and saw mills.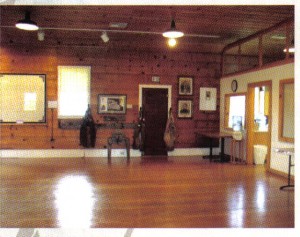 This is a perfect place for weddings, company picnics and family events.
The Pioneer Hall is situated across from the old Lake Creek General Store; the rustic building is located near a beautiful creek side park with lovely shade trees, and a bandstand.  The building holds 150 people.  Also provided are 25 tables (3×6) and 75 padded folding chairs.  The kitchen has a stove, refrigerator and microwave.  It is furnished with dishes, silverware, coffee pots, a punch bowl and warming trays.
Please make your reservations soon. With a security deposit this will guarantee you the date that you selected.  If more information is needed please contact us.
Learn More about Lake Creek Pioneer Hall