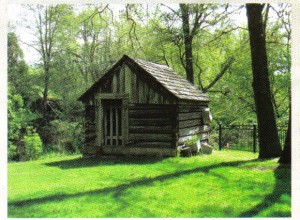 This pioneer cabin built by members of the Charley family in the homesteading era was moved to the park adjoining the Pioneer Hall.  The cabin, which is in good condition, is typical of many of the structures built by the early settlers, and has been restored to approximate it's original condition.
Learn More About The Charley Cabin
Charley Cabin moved into Lake Creek story in Lake Creek Letter, Winter 1994.
Charley Cabin most likely built around 1870, per Don Grissom.   In the Lake Creek Letter, Spring 1996 renovation begins on the cabin.
There is an article in the Lake Creek Letter published Spring 2009 written by Kathy Barlow, facts about the cabin.