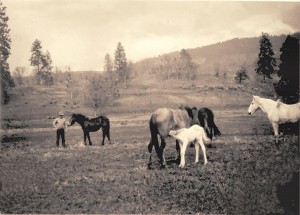 Pic: Will Nickell and his horses on ranch Salt Creek Rd.
The following are remembrances of William A. Nickell written by his Nephew, Hawthorne Garrison Rebensdorf of Woodlawn, Oregon in 1977:
William Alexander 'Will' Nickell was born on Nov. 3, 1873 in Aurora, Hamilton County, Nebraska. Will emigrated at age 6 to Portland, Oregon with his parents, Garrison Patton Nickell and Laura Ann (Poston) Nickell in 1879 on an "Emigrant Train" to San Francisco, California. The family then embarked North by wagon to about 10 miles NE of Springfield, OR (near Eugene, OR) and settled in the Mohawk Valley where his father proved up a homestead.
William A. Nickell was married to Daisy Blanche Milam on Dec. 3, 1907 in Portland, OR. Will had a very profitable wagon and dray business in Portland and also logged timber and firewood for the steamboats that plyed up and down the Columbia River. Will and Daisy's first daughter, Marguerite was born in August of 1911 in Aurora, OR. In the fall of 1911, Will made a hunting trip to Southern Oregon and fell in love with the Rogue River country. He made a trade with his brother-in-law, George Grigsby for a team and wagon, if George would relinquish to Will his homestead rights on Salt Creek in the Lake Creek area. So, in the spring of 1912, Will and his family headed for their new home. Will had amassed a savings of $5,000.00 from his business dealings, which he used to buy stock and to fence the place. Will Nickell's Homestead was located up on the Salt Creek Rd. nearby neighboring homesteads belonging to his parents and to William Messal and Eddie Meyer.
As I graduated from Woodlawn Grammar School in the summer of 1912, Grandma, Laura Nickell and her sister, Minnie Clayton, went on a visit to Lake Creek, OR to visit with their other sister, Kate Walch. We arrived in Medford at 11 P.M. and stayed overnight in a hotel across from the railroad depot. The next morning we took the P & E Railroad to Eagle Point where Will met us with his buggy.
On July 31st, Will and I met the Walch boys and another man on the main Lake Creek Road and headed for Fish Lake. At Fish Lake, we set up camp and swam the horses to an island, where we left them. Bill Walch and I were the roustabouts gathering wood. We took a dug out canoe, (a big log that was hollowed) and paddled to the foot of Mt. Pitt to get the icy cold drinking water. We did this twice a day.
The next day being August 1st, and the opening of deer season, we were up at dawn and had breakfast, and then we set out to hunt the lower part of the mountain in the timber for the elusive deer. Uncle Will Nickell and I were together. We hunted up to the snow line where we met the rest of the gang. After resting here awhile, and pulling rocks back for snow water which we all needed. It was late morning so the gang decided to go to the top of the mountain, so we headed out. While it was steep, the footing was good and we reached the top (9,485 ft.) at noon. We ate a sandwich, took in the magnificent scenery of green forests and lakes below with snow-capped mountains in the distant – Mt. Thielsen and Mt. Shasta to the south. The north aide of Mt. Pitt was a sheer, rocky drop of several hundred feet.
After a good rest of an hour or more and the signing of the register, we headed down the mountain. First thru the snow and then shale rock. It was easy now, as you would take a step then slide down 4 or 5 feet. I remember cutting a good pair of shoes before we got back to the timberline. A little later I got "buck fever" — stood spellbound as a buck crossed ahead of us. Uncle Will cut loose with his rifle. He said to me" did you see him hump". We followed his trail of blood a short distance to where he had fallen. Will carried him into the camp, where he dressed him out and hung him up in a tree covered by a sheet.
The next morning they hunted the lower part of the mountain coming in to camp for lunch. While eating, game warden Mr. Peach dropped in. They all knew him and he knew all of them too. Will invited him to lunch, which he declined. After lunch, they took off again to try to find some deer, without success. The next day we broke camp and headed for home. On the way, we passed the game wardens car at a farm house where he had stopped to call Medford. We later learned he was on his way to check on a report that we were hunting deer with dogs, which we weren't. Just below Lake Creek we pulled along the side of the road to rest the horses. The gang tried to shoot the fish in a pool – without success. We soon came to a fork in the road where we divided company with the Walch boys. And so, back to the ranch after an unforgettable 3 days. Later we went to Aunt Kate's (Kate Walch) who hitched up a team and we took off for Crater Lake. It was a hot, dusty ride with enough wind to pick up the dust and settle it on the wagon. The first night, we camped at the natural bridge over the Rogue River. The second night at Whiskey Creek arriving about noon on the third day. I met a young fellow on horseback. We went down to the waters edge where we rented a rowboat and went to Wizard Island where we went "skinny dipping". We learned later they didn't know how deep it was at that point. After rowing back, instead of following the trail back to the rim, we took off on a short cut and nearly started a landslide. It got cold that night, so to quiet the horses, we fed them some hay. We also slept in the open. I don't remember any buildings there of any sort. The return trip was faster as we camped only one night. I was pretty useless, as I didn't know how to harness a team or cook. Both my Grandmother and aunt Minnie were City folks, so Aunt Kate and the twin girls did all the work. We returned to Wellen and spent a few days. I can remember returning to Uncle Will's ranch and the Walch boys took us to Medford to catch the train. Anyway, it was a delightful summer, a kind I never had before or ever expected to have.
1914: When school was out, Grandma and I again went to Uncle will's place where Grandpa, Garrison Nickell was also staying. During this time, Will and Daisy's first son, William F. Nickell was born in 1914.
On one of the many hunting trips to the Salt Lick just north of Uncle Wills' place, Grandpa killed a spiked buck and carried it home so we had fresh meat for a while. We cut ricks of wood and hauled it to the school. We also cut hay and stowed it in the barn. One Sunday morning, Will knew where there was a bees nest, so we got dressed for a raid on the old tree — with mosquito netting over our faces, we dug out a large pail of honey. We took it back to the house and sat it on the porch. After dinner we set out on horseback to salt the logs for the cattle back in the hills, late in the afternoon when we returned, the honey had disappeared — but the bucket was still in place — did the bees take it back?
We took a three-day camping trip to Dead Indian Mineral Springs. Huckleberries were just getting ripe. The women folks saw a bear that resented sharing the crop, but he didn't do anything about it. The Dead Indian Mineral Springs name came from the legend that an Indian was found face down, dead in the spring. I always thought it was odd that the stream came down divided around the island on which the mineral spring was — some 3 or 4 feet above the stream of pure icy water.
One day in early August, I took a horse and rode east of Uncle Will's place, past the schoolhouse to the Lake Creek store and post office. After filling the sugar sack with provisions and getting the mail, I headed back. My Father had the Portland newspaper sent to me. On the way back, I read of the outbreak of World War I. This was the first any of us knew of the impending world trouble.
Later we went to Aunt Kate and Uncle Jake Walch's ranch for a week. Our visit was all too short, as I had to return back to Portland for the beginning of the new school year. Uncle Will took us by horse and buggy to Eagle Point where we took the P & E train into Medford. It was a hot day and doubly so going across the desert. We stayed at a boarding house in the east part of Medford near the river. The flies were terrible and we fought them for every bite of dinner. The next day we caught the train and headed back to Portland.
1916 — After school we again went to the ranch for a vacation. Will and Daisy's second daughter, Vida was born in 1916 Since our last visit, Grandpa Nickell had homesteaded 160 acres next to and just east of Uncle Wills. He had built a one-room house and put in a garden and had a few chickens. For sometime I spent part of the day hoeing the garden. One of my chores was to get the water for Grandpa at Wills' place both morning and night.
Grandpa Garrison wanted a well, so he "witched" it with a forked willow stick. After criss-crossing back of the house he finally settled on a spot and we began to dig for water. It was thru shale rock, so we would blast out about a foot deep and then clean out the hole, which took about a day to dig a foot. It was tough going with pick and shovel and the debris was hauled up in a bucket on a windlass. Granddad would take the dynamite down and when the fuse was lit, Grandmother and I would haul him up then go on the other side of the house and wait for the blast and then for the rocks to fall on the house, etc. After the blast fumes cleared I would go down and clear it out. We were down to about 20 feet before I left to go home. Grandpa hired some one to dig it down to 30 feet — and there they found good water. The next few years I did not make any trips to the ranch.
Homestead papers for Grandpa's 160 acre Lake Creek ranch were filed in Roseburg, OR on February 19, 1917. Grandpa Garrison Nickell arrived back in Portland in the early winter of 1917. He was in very poor health. He died on August 25, 1917. Grandmother Laura went to Medford and Jacksonville to prove up on Grandpa's homestead in Lake Creek (east half of east half of township 36 south range 2 degrees east of Willamette Meridian). Deed is dated Jan. 27, 1918.
Another daughter, Bessie was born in 1919 to Will and Daisy but died within the week from complications at birth. In 1929, Daisy died soon after giving birth to their second son, Gerald M. Nickell. Will made the heart-breaking decision to give up the newborn baby, Gerald for adoption as he was facing the daunting task of having to take care of a new-born baby plus running his ranch while bringing up and educating his young daughters and son. After his children reached adulthood, married and moved away, Will Nickell lived alone on his ranch in Lake Creek until 1942 and at the age of 71, he sold his place and moved to Eagle Point where he died on Nov. 15, 1954. He is Buried in the Brownsboro Cemetery along with his wife and two of his children.
~ Jack Ciaccia
Age 5-1902
80th Birthday 1953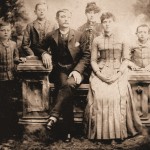 L-R-Franklin, William, Garrison, Malinda, Laura and Victory Nickell -picture believe taken around 1890 in Portland, OR. per Jack Ciaccia
---