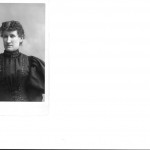 PROPER RESTING PLACE
By Jenny Randall-Cook, Seattle, WA
I started my journey to find my Randles family in my early 20's when I had moved from Northern Idaho to Seattle, WA.  In those days, as many before me have done, I logged many hours looking at reels of film at the National Archives Records Administration.  All I knew were the names of my great great grandparents Joseph and Rebecca Randles.  My father died when I was 7 years old so I never had the opportunity to hear his stories or to know about his family. My grandfather Bert Randles (later changed to Randall) was born in Gold Hill, Oregon.  He died in Idaho in the 1950's many years before I was born.  His mother Katherine Gray Randles died when he and his siblings were small children. They were raised on Joseph and Rebecca's farm in the Lake Creek area. (Lost Creek Rd.)  Here the boys lived with grandparents until they finished school in Medford.  They left for Alaska Gold and made it as far as northern Idaho.
As my research began to unfold I met Shirley 'Walch' Stone in Lake Creek.  I learned that she had grown up in the house that Joseph and Rebecca had built.  As research takes time and now with success of the internet, I was able to uncover that many of Joseph and Rebecca's grandchildren were raised by them when tragedy had struck.
As I began to look for each of the Randles' children I found their 5th child, Matilda 'Randles' Anderson, lived in Seattle in 1900-1920.  She had one daughter, Mary Anderson, and one grandson, Milton Lee Smith.  I had hoped to find her grave in Seattle, but no records of her burial.  I stopped by the funeral home of Bonnie Watson just hoping to find some information, as it was my one last attempt.  The attendant came upstairs to inform me that they had Matilda's ashes in the basement, as her family was unable to pay for or claim her for burial.  She asked if I would like to claim her.  "Well, of course", I said still in shock.  She had been there nearly 85 years.  I thought the odds of finding any of her direct descendants were probably slim.  So I took Matilda home with me and began saving money to have a proper place to have her laid to rest.  My research uncovered that Matilda had been abandoned by her husband and left in a small town in Oregon with her small daughter.  She found her way to Seattle and gained employment as a manager of a boarding house.  She sent for her daughter, whom also had stayed with Joseph and Rebecca while Matilda got on her feet.  She raised Mary  as a single mother in Seattle in the 1890's.  One can only imagine what life must have been like for her, but I knew she deserved much better than the basement of a funeral home.
I received an email a month or so later from a distant cousin, Eileen.  Eileen was Matilda's great great granddaughter.  Now, imagine how excited I was to talk with her about the Randles and to share the news I "had" her  great great grandmother at my home!  A wonderful friendship evolved.  Together we decided that she should be taken home to Lake Creek.  I was so pleased to speak and meet Jerilynn Hanson, at Brownsboro, whom extended such kindness and helped me make the arrangements.  My husband and I drove down in October 2012 on a beautiful sunny day to give Matilda a final resting place, near her parents, in the Brownsboro Cemetery.  When we arrived at Brownsboro waiting for us was Marilyn Maloney from the Lake Creek Historical Society and a cousin, John Andrews. His grandmother was Celia 'Randles' Andrews. Celia and Matilda were cousins. There fathers were brothers and their mothers were sisters. It was such a pleasure to have both of them join us, since this was the first time I had met them.