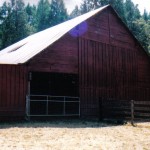 By Kenny Millard (2006)
Provided by:Sister Hazel 'Millard' Siebrecht
Barn picture taken 2009 for LCHS 2010 calendar.
Our two oldest grandsons are now driving and it scares the "@#! %*%#@" out of me, because I was such a calm and collected driver, I wish they would drive more like I did.
 We drove up to the old place and it didn't seem near the same, although the old barn had some semblance of what I remember, especially the pole that Nancy jumped off of and ran a pitchfork through her foot.  Some of the memories were of Rick Charley (a cousin) getting into a yellow jacket nest; Toby Millard,(another cousin) falling off a 20 foot cliff: Dick jumping out of the back of a moving pickup at Jim West's (a cousin's husband) rodeo; Johnny roping old Ted (our dog) out in the field off his horse Ribbon.  I remember when old Jim died (half of Dad's favorite team of horses)…Jim and Butte.  Shirley Charley (cousin) coming to stay overnight and us boys hiding in our fort down in the hay mow usually with Hugh (cousin) and Toby, Norman Adkins (our Lake Creek friend) or some other friend and then coming out only to throw pears at all the girls.
 I remember riding a little Shetland pony one day, can't remember the name of the horse, up towards the chicken house, when the horse decided to go right and I kept going straight ahead on the little rise before you got to the chicken coop.  First think I did was to look around to see if anybody noticed that I had taken a nasty spill.  Lots of other things I'll remember later, but for now this is fresh in mind.
 I know it's hard not to worry about your grandchildren, but they seem to always have a way of coming through unscathed: even though we think we are much wiser than they are.
I don't think my grandkids care much for my stories, even though most of them are true.  I remember how terrified I was whenNancyhad her first epileptic spell and I had to run get Dad who was running a chainsaw up on the hill.  Thank God that it turned out OK but I have never been so terrified.  I remember doctoring the school bus Halloween night for Arthur Burrell because he couldn't do it himself.  He was getting too old to do it himself so we greased the windshield and the steering wheel and put potatoes up the exhaust pipe.  I do believe it was Dick's fault, but I took the blame because I was such a congenial fellow.  Arthur seemed to frown at Dick the next day (for some unknown reason); because Gene Greb (a school friend) and I chickened out and didn't go to school the next day so poor Dick took the blame for us.  Obviously, he didn't appreciate us trying to help out with the "greasing" of the bus.  One other thing that Dick and I were proud of was when we took our prize dog to the dog show and it threw up on the bus and smelled everybody out.  Almost worse than when I threw up down Arthur's neck "quite by accident".  Didn't realize 'til years later just what a great old man he really was to put up with all us ornery country kids.
 I remember poor old Gus Edler, when Hugh and I stole cantaloupe out of his garden and left boot tracks all over it, but he never said one word about it.  He probably would have shot us if he had half a chance and I don't think we would have missed.  Anyway those were the good ol' days.  It hardly seems like ten years let along fifty years.  One time I remember when I moved the chair out of the way so you could step off the end of the bench.  For once I was being a gentleman, but Dad didn't seem to think so.. He gave me a rather severe reprimand, even thought I was trying to explain that I was turning over a new leaf…Would  be nice to go back and relive a couple of those days…they are gone forever though.
Gus Edler and Arlin Millard
Picture provided by: Hazel "Millard" Siebrech