AMBER 'COHRON' OWEN
By Kathleen Berryman
From Dan Berryman's recollections.
Amber Owen was one-quarter Choctaw Indian and grew up in Texas. Her family was very poor and she picked cotton as a young girl. She married Jack Moses Owen, who was Dan's grandfather. Jack and Amber had five children, one son Kenneth, and four daughters, Muriel, Maxine, Ruth and Betty Lou. Both Muriel and Kenny died of cancer. Betty Lou passed away a few years ago. Kenny owned Medford Air and was a crop duster for many years. Maxine Berryman and Ruth Mc Garvey are their only remaining living children.
While residing in Long Beach, CA, Amber's husband Jack invented an oil well drill bit and had his own business. They were fortunate to be pretty well-off. Maxine recalls that they had a maid and lived in a nice house and gave the children a "free rein". When Maxine wanted to drive down the coast for the day, Amber would just hand her the keys to the car.
Amber and Jack relocated from Long Beach to Lake Creek area and bought the upper and lower ranches located on Highway 140 and Lost Creek Road. Jack also bought a gas station in Central Point that he ran until his death. Amber outlived Jack by several years and outlived several other husbands, too.
Amber was a devout Christian. The story is told that while living in California when the pastor of the Church of Christ where she attended needed a car, Amber went down and bought him a new Cadillac. Dan recalls that when he and his brother Jon and his Grissom cousins spent part of their summers with her on the upper ranch, she would always be teaching them about an assortment of subjects; religion, God, even sex, most anything she was thinking about. Some of her answers were very interesting. She was very opinionated and knew what was right and what was wrong, and she'd tell you so! She would tell her grandkids the same stories over and over…"If you do this, this is going to happen to you". Eventually they figured out that some of her stories were old wives tales.
Amber was very adaptable. She could wear stylish clothes and drive a Cadillac when they lived in California, but then after moving to the upper ranch in Lake Creek she'd fit right in with her long, braided hair pinned up on her head, her pink cowboy hat, jeans and her yellow Jeep that she drove all over the valley. Never being in a hurry, she would stop in here and there to "shoot the breeze" with anyone who wanted to talk.
Amber left a strong legacy and was a very independent woman. She had a strong "pioneer woman" constitution and always had a big grin on her face. She passed on this contagious smile and independent spirit to all her children.
She was very health conscious when the kids were growing up and believed in juicing way before it became popular. Maxine said she would buy bushels of bananas for them to eat and raised them on an organic, vegetarian diet. After moving to the upper ranch Amber always maintained a huge garden. In the colder season she would make a big pot of beans and just leave it on the back of the woodstove and eat on it all day. When the grandchildren were up visiting this is what they would have to eat for breakfast, lunch and dinner.
She had a special "concoction" she'd give the grandkids to "keep them regular". This was a course of juices consisting of grape juice, water, and sauerkraut juice. As Dan unpleasantly recalls, if she wasn't satisfied with the "results" her next course of action was to line them up and give them an enema. Apparently Dan inherited Amber's stubborn constitution because as a very small boy it only took a couple of these enemas and when it was about to happen again he ran away from her and yelled, "Don't you ever do that again, Grandma!"…and she never did!
For the last few years of her life she wasn't able to take care of herself and went to live with her daughter, Betty Lou.
She lived a full and happy life up to her peaceful death at age 95. Her favorite response to just about anything was, "Well I'll swan". During her life time she had many friends and was much loved.
One of many stories in The Lake Creek Letter- Spring 2011.
---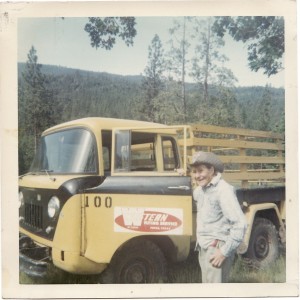 Amber-Owen-Williams-King May 30, 1968
Picture provided by:
Debra 'Grissom' Dean